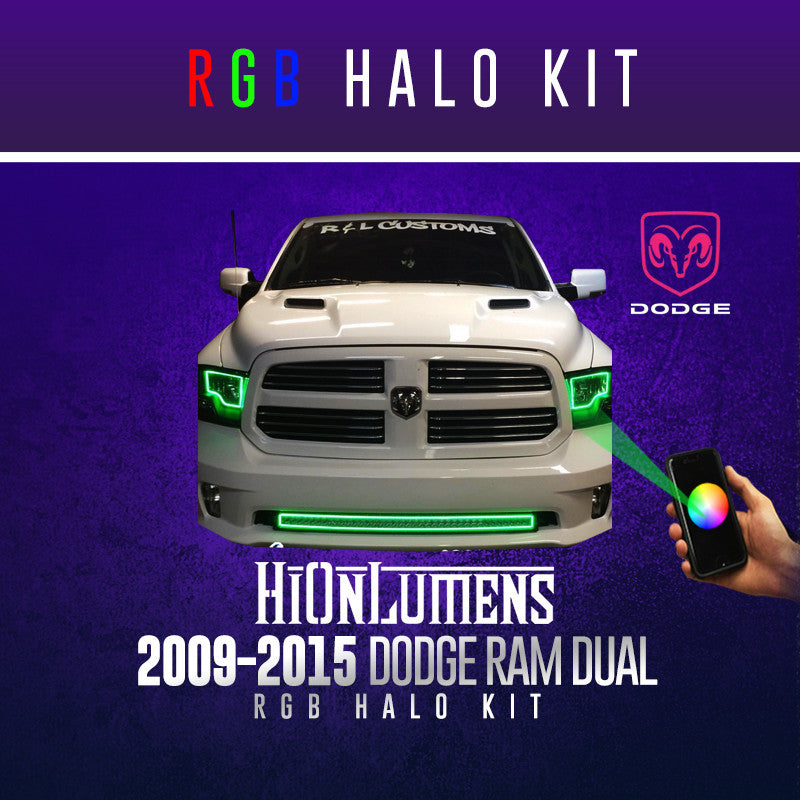 2009-2015 Dodge Ram Dual RGB Halo Kit
Product Description
This RGB Halo Kit will take your vehicle to the next level! Featuring full color functionality, you'll have the ability to transform your headlights with the click of a button, cycling through hundreds of different modes and functions, the color combinations are virtually endless, you'll definitely make your competition think twice before pulling up next to you!
Order Includes:
(2) 2009-2015 Dodge Ram RGB Halo Rings
Vehicle specific driver(s)

*This package is the Halo Kit ONLY. Housings are sold separately.

Add Your Remote:
*All halo kits require a remote to function, please select one of the remotes available below: our Bluetooth Remote controls your setup through an app on your mobile device, our M7 remote is our wireless handheld remote. 

Pre-Wired Remote:
*With our Pre-Wired Remote option, all you will have to do for install is connect power and ground to the battery, and simply insert your halos into our 4-way splitter.
Vehicle Compatibility:
This kit fits the following vehicles: 
2009 Dodge Ram  
2010 Dodge Ram
2011 Dodge Ram  
2012 Dodge Ram
2013 Dodge Ram
2014 Dodge Ram
2015 Dodge Ram