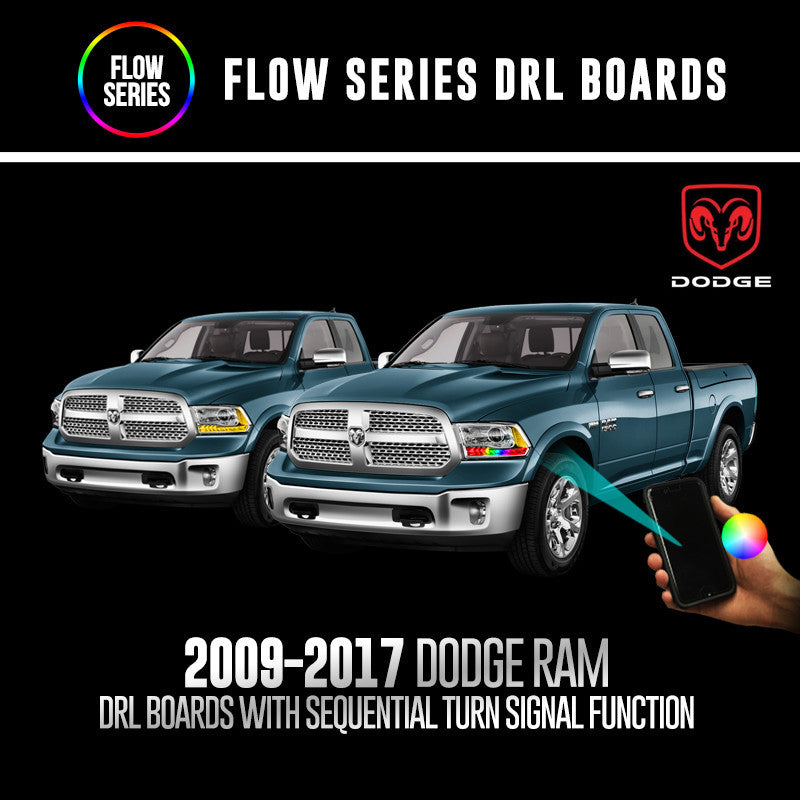 2009-2017 Dodge Ram Flow Series DRL Boards with Sequential Turn Signal
Product Description
These Flow Series DRL Ribbons are a drop-in replacement for factory boards on 2011-2016 Chrysler 300C models. Full color functionality controlled with a handheld RF remote or a Bluetooth controller through your mobile device.
Order Includes:
(2) 2009-2017 Dodge Ram Flow Series DRL Boards
Add Your Remote:
*All halo kits require a remote to function, please select one of the remotes available below: our Bluetooth Remote controls your setup through an app on your mobile device, our M7 remote is our wireless handheld remote. 

Pre-Wired Remote:
*With our Pre-Wired Remote option, all you will have to do for install is connect power and ground to the battery, and simply insert your halos into our 4-way splitter.
Vehicle Compatibility:
This kit fits the following vehicles:
2009 Dodge Ram

2010 Dodge Ram
2011 Dodge Ram
2012 Dodge Ram
2013 Dodge Ram
2014 Dodge Ram
2015 Dodge Ram
2016 Dodge Ram
2017 Dodge Ram