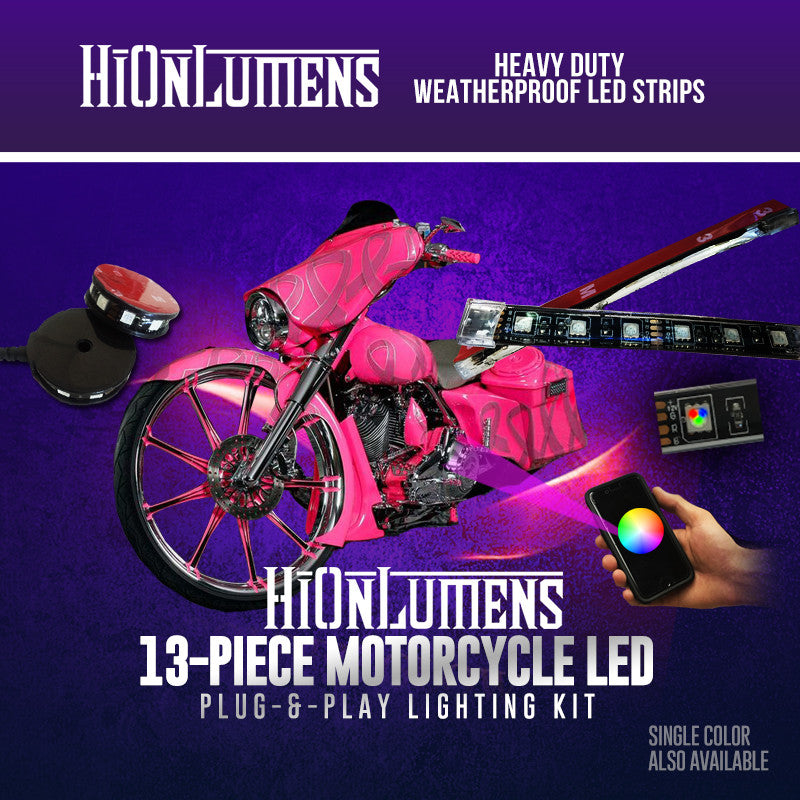 13-Piece Plug & Play Lighting Kit
Product Description
Looking to set yourself apart from the other bikes in your squad? Well here is your one-stop-shop answer, no add-ons needed, straight to the point of illumination with a hint of insanity. Our 13-Piece Plug & Play Lighting Kit contains a full line up of our Custom Molded IP68 LED Strips. Allowing to be fully submerged in water, blasted with a power washer and even covered in bubble bath at your next bikini bike wash. Don't cheat your bike with your typical $50 Ebay kit when you can treat your bike right with the RGB 13-Piece Plug & Play Lighting Kit!
Order Includes:
(4) 16" Strips
(4) 4" Strips
(2) 12" Strips
(1) 8" Strip
(2) LED Fender Pucks
(1) Plug & Play Splitter for All Connections
Wireless Remote
All Strips are Pre-Built with High Strength 3M Backing
Add Your Remote:
*All RGB kits require a remote to function, please select one of the remotes available below: our Bluetooth Remote controls your setup through an app on your mobile device, our M7 remote is our wireless handheld remote.

Pre-Wired Remote:
*With our Pre-Wired Remote option, all you will have to do for install is connect power and ground to the battery, and simply insert your halos into our 4-way splitter.